Fort McMurray New Homes - Design and Color choices
Posted by Jennifer Fahey on Wednesday, April 24, 2019 at 4:26 PM
By Jennifer Fahey / April 24, 2019
Comment
Whether it's new construction homes or remodelled homes, there's no question that choosing the right paint colors and overall feel of the home's interior plays a big part on your home faring well with potential buyers. Here are some design and color choices that you can take inspiration from to improve the overall aesthetic of your home.
Exterior Paint
Desert Beige
Beige gives off a classic look with a strong neutral tone. This particular tone of beige can transform your home's exterior into something sharp and exciting. When working with this trending exterior house color, the most impactful applications are those that feature bold, contrasting colors used as visual outlining. Some ways to frame this rich beige color is to frame the siding with crisp white soffit, gutters and corner strips. The roof is another great area that can be used to offset beige siding.
Soft Lemon
Another great choice for exterior upgrades is soft lemon siding. Before you vote no, consider pairing it with warmer beige colors. Soft lemon transforms from a bright, childish color to a more mature, sophisticated palette when presented side-by-side with warmer beige colors. The key here is to strike the right balance with this color. Tone down soft lemon by using it in combination with warmer hues.
Stormy Gray
Not your average gray, this shade features a blue tone, which makes all the difference. Stormy gray communicates a refined coastal theme. It is best used in contrast with crisp white or charcoal detailing. For a truly coordinated look, use all three of these colors together for a striking look that will surely boost your home's curb appeal.
Home Interior
Full-tile backsplash kitchen wall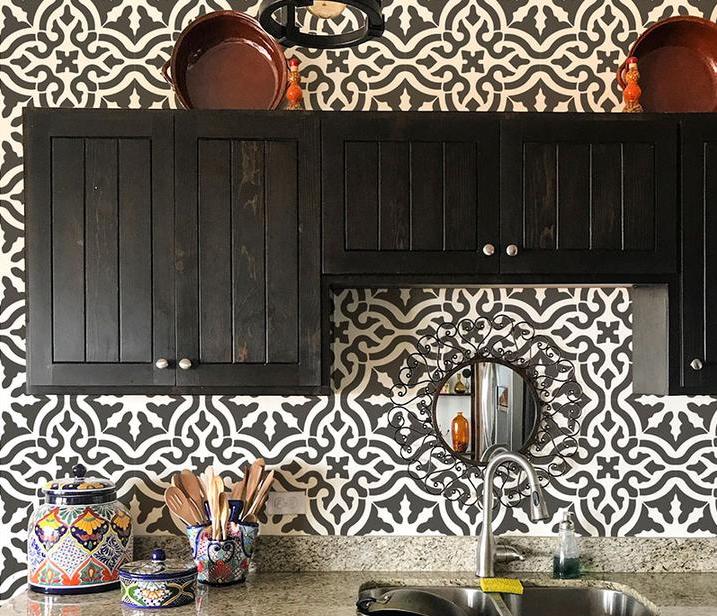 Attention-grabbing backsplash tile have been the darling of kitchen designs for years now. But if you want to kick this style up a notch, what's gaining more popularity this year is using backsplash tiles from countertop to ceiling, including behind the floating shelves and flanking range hoods too. This creates striking feature wall that will surely set your kitchen apart from the others.
Cream-colored cabinets
While white is still the top choice for cabinet color, many homeowners are moving away from the bright, stark whites and embracing off-whites that feel warmer and cozier. Cream-colored cabinets paired with other warm finishes like wood and brass create a calm, serene and homier feel. This works especially well if you're aiming for a farmhouse-inspired home design.
Natural wood vanities
Bathrooms can often look and feel cold with all that tile, glass and metal. Wood vanities help bring a large dose of warmth. Using reclaimed wood or light wood with clear stains keeps the area light by showing the wood's grain and knots.
Moroccan tile bathroom floors
Moroccan-patterned tile has been a popular choice for kitchen backsplashes for years now. It's now gaining more buzz in bathroom designs with the boost of freshness and relaxation that it gives. Moroccan tile bathroom floors automatically translates to spa and vacation vibes, so it's no question that it's here to stay.
Glass-and-steel room dividers and interior doors
Glass and steel have been popular materials in recent years for front doors, shower enclosures, as well as interior rooms. They create an open feel and allow light to pass between rooms while still providing some privacy and noise control. Not to mention that they provide for industrial and low-key steampunk additions to an otherwise "traditional" home design.
Natural elements
Move towards fresh, natural materials such as stone, copper, concrete, and granite. These elements will help bring an organic and serene ambiance to any space while reflecting the world around your home.
Rich color palettes
Though muted colors can help you avoid making spaces feel overwhelming, richer hues throughout your home can make your more muted furnishings and decorative decor pop. Consider using dramatic reds, statement pinks, bold yellows, teals and organic greens.
An alternative to living coral
If living coral, Pantone's color of 2019 does not really suit your taste, you might want to try powdered clay. It takes inspiration from earth minerals and shell clay, this muted alternative evokes warmth, creating a calm and serene vibe to rooms painted with this color.
Looking for new homes or maybe you have plans to sell your home? Give me a call!